Window Treatments Product Glossary
Louver Shop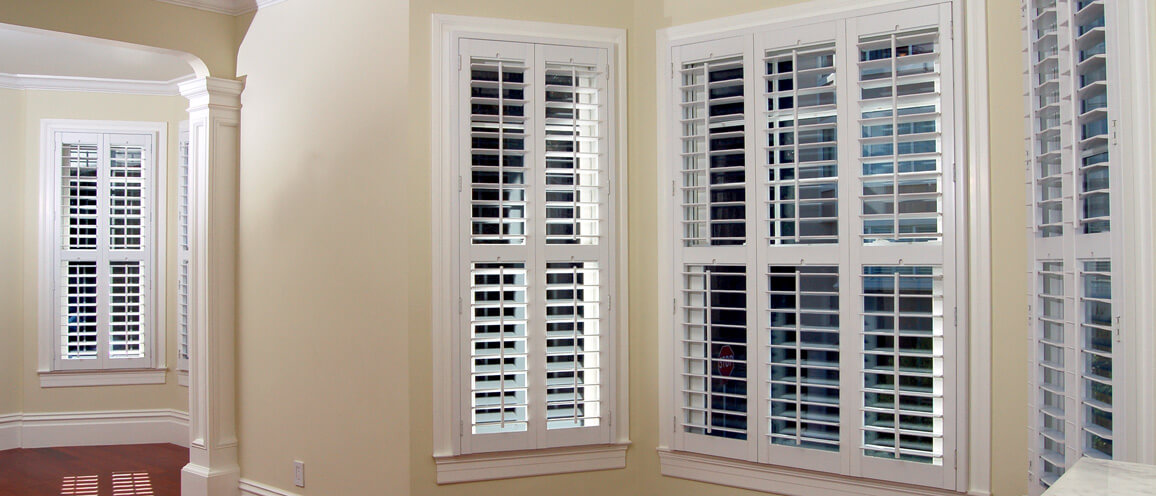 Learn More about Our Shutters, Blinds and Shades
Develop the window treatments you desire with custom shutters, blinds and shades from Louver Shop.
It can be challenging to know where to start, but our product glossary can give you a hand. As well as booking a free, in-home design consultation with your local Gainesville professional. We'll bring the window treatment showroom to your living room.
See below to find out more about your options—all manufactured in the United States.
Interior Window Treatments
Plantation Shutters
Plantation shutters are used for privacy, light diffusion and airflow. Some models are built for improved energy efficiency.
Plantation Shutters: Classic style for current homes. Wood or cellular PVC shutters with wide louvers (2.5", 3.5" or 4.5" options at no additional cost). Fully customizable and made in an array of colors.

Louver Shop

exclusive. Also known as plantation blinds.

Classic Plantation Shutters: Premium wood and cellular PVC plantation shutters that give a traditional style in any home. Our most popular shutter.
Heritage Diamond Select™: Solid wood plantation shutters made with top-of-the-line materials. They will set your home apart from the rest.
LouverWood®: Cellular PVC plantation shutters that insulate three times greater than wood.
Signature Shutters: Solid wood plantation shutters with an exclusive style only available from

Louver Shop

.

Traditional Shutters: The "original" interior wood shutter with narrow frames and smaller louvers (1.25").
Blinds
Make your home more comfortable and fashionable with Hunter Douglas blinds from Louver Shop. As tough as they are attractive, there's a window blind for every home. A great choice to filter light and increase privacy.
Horizontal Blinds: Traditional window treatment built in wood or PVC.
Mini Blinds: Horizontal aluminum blinds with long, narrow louvers.
Vertical Blinds: Individual louvers clipped into a sliding track at the top of the blind.
Shades
Hunter Douglas shades can filter sunlight, decrease heat transfer and block damaging UV rays.
Honeycomb Shades: Provides excellent energy efficiency. Numerous air pockets give them a honeycomb-like shape and excellent insulating qualities.
Pleated Shades: A single piece of fabric that stacks into neat pleats when raised.
Roman Shades: One piece of fabric that hangs flat while closed and stacks when raised.
Roller and Solar Shades: Simple, cost-effective shades. Curls around a roller when raised. Some models offer improved insulation and light-filtering capabilities.

Designer Roller: Roller shade featuring more than 330 fabric choices.
Designer Screen: Roller shades that bring UV protection and a view.
Sonnette™: Traditional roller shade with energy-efficient construction.

Sheer Shades: Offers both light and privacy. Combines vertical or horizontal adjustable vanes floating between backings.
Hunter Douglas Operating Systems
Hunter Douglas brings a variety of motorized and manual operating systems for your blinds and shades. Available systems vary based on the product.
Motorized Operating Systems
PowerView®: Wireless operating system controlled or scheduled via a remote or mobile device.
SoftTouch™: Battery-operated system with wand operation.
Vertical Motorized System: Remote or wall-mount system for vertical blinds.
Manual Operating Systems
UltraGlide®: Retractable cord or wand remain at a consistent length when raising or lowering blinds.
LiteRise®: Cordless system works with your touch, pushing up to raise or pulling down to lower.
Duolite®: Light diffusion and window darkening in one product.
LightLock™: Adds 100% blackout capability for Duette® Honeycomb Shades.
Top-Down/Bottom Up: Open your shades from the top, bottom or anywhere in between.
Vertiglide™: Cordless operating system for Duette® and Applause® Honeycomb Shades. Choose from manual or motorized.
SimpleLift™: Contoured bottom rail removes the need for a handle, making raising and lowering shades simple.
Cordless Lifting System: Cord-free spring-assist system to raise and lower large window solutions.
EasyRise™: Pull on a loop to raise or lower a shade.
Clutch-Operated Continuous Cord Loop: Continuous loop operates on a pulley, rotating a clutch to raise or lower a shade.
Custom Clutch: Smooth operating system that offers the smallest gap possible between a shade and a window to block the most light.
Standard Cordlock: Locks into place for convenient operation and streamlined appearance.
Combination Wand/Cord Control: Offers single control to traverse or rotate the vanes or louvers.
Wand Control: Replaces looped pull cords with a wand.
Chain and Cord: Provides smooth operation and exceptional light control.
Parts and Features of Shutters, Blinds and Shades
We commonly refer to these parts and features on our window treatment product pages.
Architella®: Premium feature for specific Hunter Douglas products. Features superior energy efficiency.
Cells: Sections that comprise a honeycomb shade.
ClearView™: Proprietary Hunter Douglas feature that improves the outdoor view for select window treatments.
de-Light™: Proprietary Hunter Douglas component for blinds that hides cord holes and diminishes light leakage.
End Retention System: Proprietary Louver Shop feature on hurricane shutters that takes away the need for storm bars.
IllumiCell™: Proprietary Hunter Douglas light-diffusing option for Duette® Architella® Honeycomb Shades.
Invisi-Lift™: Proprietary Hunter Douglas component for shades that floats horizontal vanes on a sheer backing.
Louver: Wide horizontal panels in a plantation shutter.
MagnaView®: Proprietary Hunter Douglas feature for select horizontal blinds that nearly doubles the view.
Polymer: Also referred to as faux or fake wood. A strong choice for rooms with high moisture.
PerfectView: 

Louver Shop

offers a contemporary operating system for our shutters that hides the traditional tilt bar from sight. This provides smooth operation and improved view through the shutter.
Slat: Individual strips that are part of a horizontal blind.
SofTrak™: Proprietary Hunter Douglas feature for vertical blinds increasing effortless, quiet operation.
Tilt Rod: Used on shutters to open or close louvers.
Trielle™: Proprietary feature for Hunter Douglas Duette Architella Honeycomb Shades that increases energy efficiency.
Vane: Hanging panels in a vertical blind.
Exterior Shutters
Decorative and Operational Exterior Shutters
Offer curb appeal to your home with decorative exterior shutters. Functional shutters offer options to safeguard your home from brutal weather and relentless sunlight.
Storm and Security Shutters
Louver Shop has you covered when it comes to rolling storm and security shutters. Whether you plan to protect your home from severe elements. Or strengthen your business against invasion. And various models provide extra insulation, keeping you cooler in the summer and warmer in the winter.
LouverShield™: Rolling hurricane shutters including an extra-small housing space. Withstands winds up to 230 mph, insulates and improves security.
LouverStorm™: Rolling hurricane shutters featuring the smallest housing box in the industry. Defends against winds up to 200 mph, keeps out water, insulates and improves security.

LouverSafe™: Rolling security shutters designed to be subtle and beautifully pleasing. Made from 60 percent recycled aluminum.
LouverTite™: Rolling security shutters that defend against intruders and stand against winds up to 140 mph. Made from aluminum, stainless steel, plastic and galvanized steel.