Energy Efficient Window Treatments
Energy Efficient Shutters & Shades
Savvy homeowners appreciate window treatments that enhance the décor of their homes while providing tangible benefits. Energy efficient shutters and shades are a great example that provide long term cost savings on home energy bills, a more comfortable home living environment, and more.
Reduce Energy Costs
Energy efficiency in a home is important because it saves money. With the right energy-efficient shutters or shades, you can reduce your monthly energy bills. Also, energy-efficient homes tend to be more comfortable because they are better insulated and have more controlled heating and cooling systems.
By reducing energy use and emissions, energy-efficient homes contribute to a more sustainable future. Additionally, energy-efficient homes are often valued more highly than their less efficient counterparts, making them a better investment.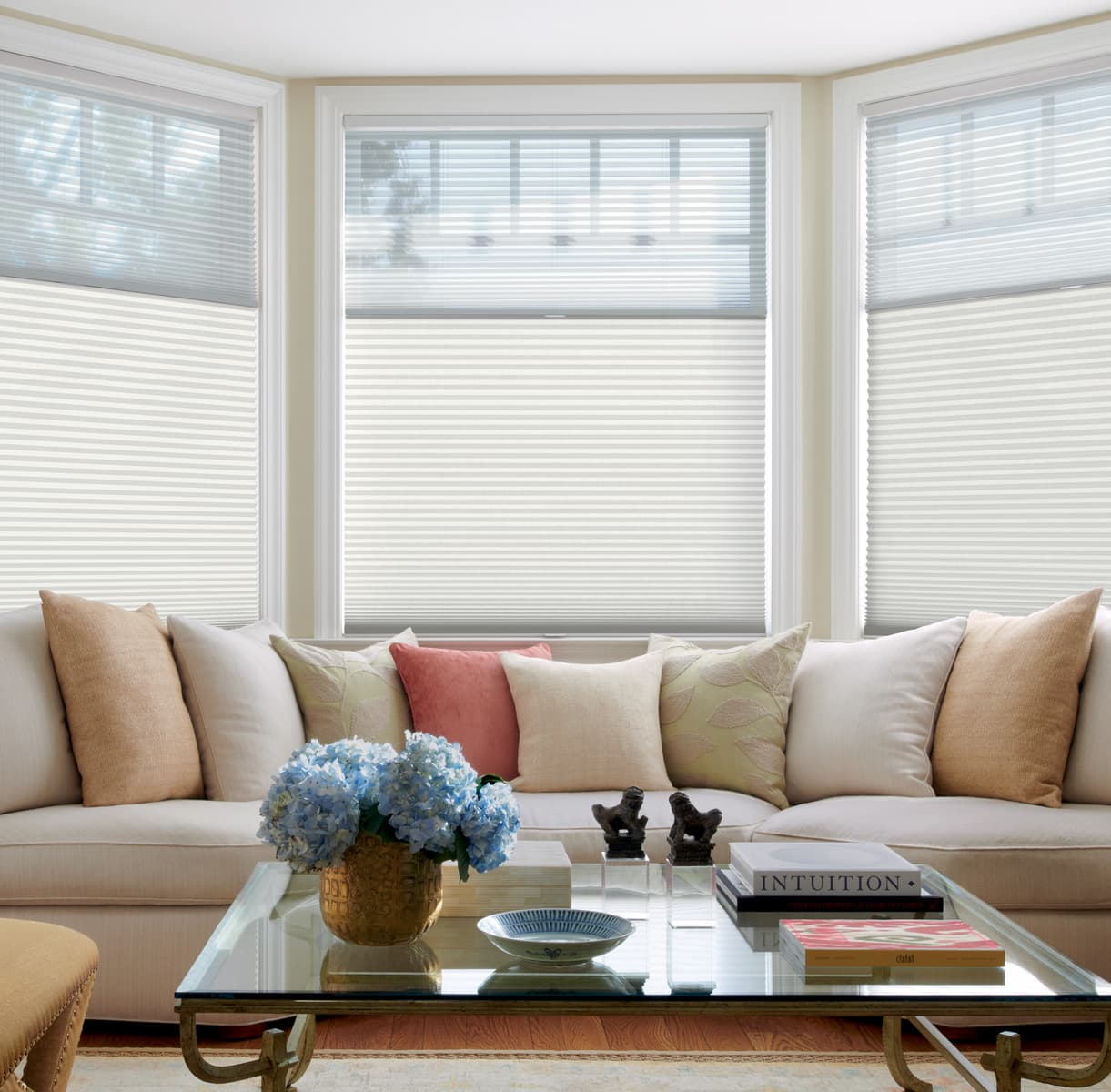 LouverWood™ Shutters
With our LouverWood™ shutters, you don't have to compromise aesthetics for energy efficiency. These custom shutters look like wood but insulate up to three times better.
LouverWood™ plantation shutters qualify for the 2023 Federal Energy Tax Credit. Learn more
Energy Efficient Shades
Cellular shades, Roman shades, and roller shades are energy efficient because they help to reduce heat transfer between the interior and exterior of a building.
Cellular shades: These shades are made up of small honeycomb-shaped cells that trap air, providing an insulating layer that reduces heat transfer.
Roman shades: Roman shades are made of heavy fabrics that provide a barrier to natural heat transfer. When the shades are closed, they provide a continuous layer of insulation that helps to keep the interior of the building at a comfortable temperature.
Roller shades: Roller shades are made of a heavy fabric that provides insulation and blocks direct sunlight. When the shades are closed, they help to reduce heat transfer and prevent overheating of the interior of the building.
By reducing heat transfer and providing insulation, these shades can help to improve the overall energy efficiency of a home, reducing heating and cooling costs and contributing to a more comfortable and efficient living environment.
Cellular Shades
Cellular shades, also known as honeycomb shades, work by trapping air within the small hexagonal-shaped cells that make up the shade. When the shade is closed, the trapped air creates an insulating layer that helps to reduce heat transfer between the interior and exterior.
Select energy-efficient Duette® Honeycomb Shades qualify for the 2023 Federal Energy Tax Credit. Learn more
Roman Shades
Roman shades can help to reduce heat loss in the winter and heat gain in the summer, making them an energy-efficient option for homeowners. By providing an additional layer of insulation, Roman shades can help to regulate temperature and reduce energy costs associated with heating and cooling.
Roller Shades
Roller shades offer an attractive combination of affordability, simplicity, and energy efficiency, making them a popular choice for homeowners who are looking for a cost-effective solution for controlling light and privacy in their homes.
Schedule a Free, In-Home (or Virtual) Design Consultation Today
We'll bring the shutter, blind and shade showroom to you, take measurements and provide you with our everything's-included Louver Complete Comfort Pricing - all for free! Get started by filling out the form below.